EverSharp Power Equipment, Inc.
*% Purchased %*
CORLL'S Tractor Parts, Co
Friday, January 18, 2008 12:54 PM


Power Equipment

2480 Medina Rd
EverSharp Carries Parts from these Manufactures

Allis-Chalmers
Husqvarna
Roper
A.M.F.
Hydro Gear
Rally
AMF
IDC
Ryobi
Ariens
Jacobsen
Ryan
Atlas
Kawasaki Engines
Sears Products
AYP
Kee
Simplicity
B.C.S.
Kohler Engines
Snapper
Billy Goat
Lawn-Boy
Stealth
Bolens
Lawn Chief
Tecumseh
Bradley
McCulloch
Toro
Briggs & Stratton
MDT
Troy-Bilt
Dana
Murray
Wheelhorse
Dynamark
Noma
White Outdoor
Echo
Partner
Weedeater
Foote
Peerless
Yardman
Hoffco
Pioneer
Homelite
Poulan
Honda Engines
Reddy Heater Parts
Huffy
Red Hawk
Original 1950s & 1960s Jacobsen Tractor Parts
> Jacobsen Parts SOLD HERE <
We also carry Hard to Find Parts for: Ford 8N - 9N
Massey Ferguson TO20, TO30, and Massey Ferguson 35.
As An Antique and Vintage Tractor Parts Supplier, We Sell Replacement Parts for 1950's and 1960's Jacobsen Tractors, AMF, Briggs Stratton, and Homelite-Jacobsen Tractors.
Corll's Stocks Orginal & Aftermarket Antique Snow Blowers, Yesterday's Blowers. Vintage Rototillers, & Classic Chain Saws. We also carry an assortment of Lawn & Garden Equipment, Farm Machinery, & Power Equipment.
Shop at Corll's Tractor Parts Today and Save!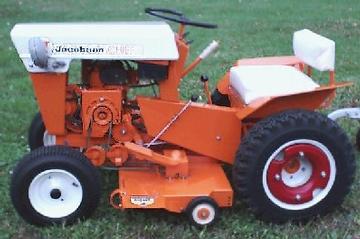 Restored 65' Jacobsen Chief

Restorator - Chuck Swepston, from PA
Tractor Parts by Corll's

Corll's Tractor Parts, Co. All Rights Reserved, 2005
Questions & Comments?