WELCOME TO CORLL'S TRACTOR PARTS
Original 1950s & 1960s Jacobsen Tractor Parts
> Jacobsen Parts SOLD HERE <
Authorized Part Dealer for the following Manufactures
A.M.F.
Jacobsen
Roper
American Yard Products
Kohler engines
Sears
Yard-Man
Lawn Boy
Simplicity
Briggs-Stratton
MTD
Techumseh
Craftsman
Murray
White
Homelite - Jacobsen
NOMA
J.C. Penney
We also carry Hard to Find Parts for: Ford 8N - 9N
Massey Ferguson TO20, TO30, and Massey Ferguson 35.
As An Antique and Vintage Tractor Parts Supplier, We Sell Replacement Parts for 1950's and 1960's Jacobsen Tractors, AMF, Briggs Stratton, and Homelite-Jacobsen Tractors.
Corll's Stocks Orginal & Aftermarket Antique Snow Blowers, Yesterday's Blowers. Vintage Rototillers, & Classic Chain Saws. We also carry an assortment of Lawn & Garden Equipment, Farm Machinery, & Power Equipment.
Shop at Corll's Tractor Parts Today and Save!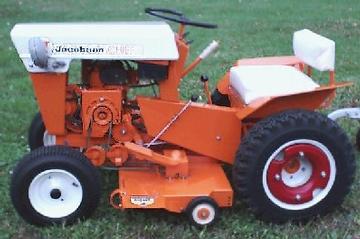 Restored 65' Jacobsen Chief

Restorator - Chuck Swepston, from PA
Tractor Parts by Corll's